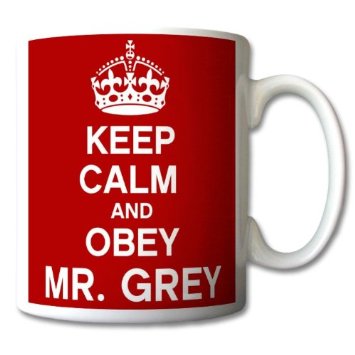 50 Shades of Grey (also known as "That Book" in my circles) came out two years ago, quickly followed by its two sequels and a slew of worldwide attention. And a film, which is currently in production, to be released next year.
We all know just how popular the 50 Shades phenomenon is – even spawning the 50 Shades of Grey Official Pleasure Collection which was approved by E L James herself. But while sex toys and bondage equipment seem like a natural tie-in (hurr hurr) to these books, there are some… more questionable pieces of 50 Shades merchandise knocking about.
Grow Your Own Mr. Grey, anyone? Anyone? Bueller?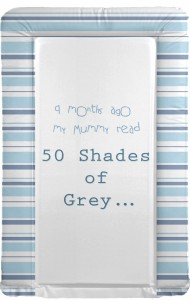 Oh yes, you are reading that correctly. An easy-to-wipe down PVC changing mat, which sounds like your standard changing mat – only this one has the words 9 Months Ago, My Mummy Read 50 Shades of Grey emblazoned on the front.
Yeah, I honestly don't really know what else to tell you about it, other than that it's also available in pink. And grey, of course.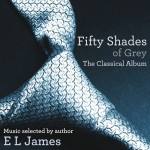 Classical music plays a big role in the course of the 50 Shades saga. Then again, so does Your Love is King by Sade, but you don't see Sade releasing a tie-in album to the books, do you?
Fifty Shades of Grey: The Classical Album features songs that are referenced in the books, such as the 'Flower Duet' from Lakmé and Pachelbel's Canon in D. Granted, that's not a bad selection…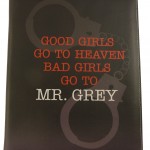 A pretty standard iPad cover, designed to fit the iPad 2 and iPad 3. With soft, protective lining and hidden magnets acting as fastening, this looks like it will protect your iPad nicely… if you don't mind the whopping great picture of handcuffs and the words Good Girls Go To Heaven, Bad Girls Go To Mr. Grey on the front.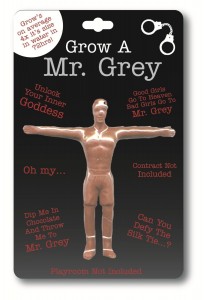 Unlock your Inner Goddess! Put this… whatever it is in some water and within 72 hours, it will grow to four times its size! You'll have your own Mr. Grey! Or a soggy bit of plastic that, quite frankly, looks a bit scary.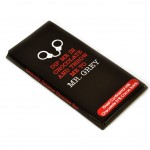 In the same vein as Wild Ophelia's The Hunger Games-themed chocolates, but a bit less expensive (or posh) comes this milk chocolate bar. It's no frills, just milk chocolate. It comes with different quotes (Dip Me In Chocolate and Throw Me To Mr. Grey being one of them) on the wrapper, but it's basically the exact same bar with a different wrapper.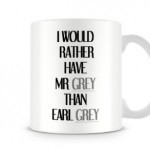 Ana "Twinings Tea, Bag Out" Steele has a curious affection for tea, believing that one cup solves all problems. A fact that the coffee and tea mug industry have seemingly banked on, since there are literally dozens of Fifty Shades themed mugs out there. From the ones with the obvious Earl Grey/Mr.Grey references, to Keep Calm and Obey Mr. Grey to Keep Calm and Read Fifty Shades of Grey.
If you want a Fifty Shades-themed mug, you are spoiled for choice, my friend.
For more on Fifty Shades, check out the Dork Adore Fifty Shades of Grey tag.