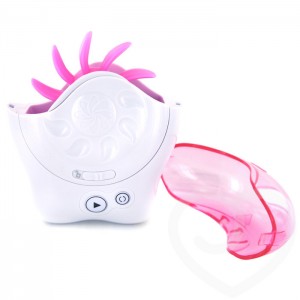 When Lovehoney sent me a review sample of the Sqweel 2, I literally squealed in excitement.
Dork Adore featured the first Sqweel back in 2009 but Lovehoney has updated one of its top-selling toys and re-released it to the eager public.
With 30% more power and a new reversible turning mode, it initially ticks all the boxes for hot stimulation.
However, as our Emma Cossey commented last time, it is a bit scary looking.
The ten-tongue device looks daunting once the cap is off. The "mini" tongues move really fast once the buttons are pressed, and the vibrating is really, really loud.
Definitely one to use when you know you're alone in the house.
Verdict
Despite the unusual concept and odd look, the Sqweel 2 is actually a really decent sex toy and not just a novelty.
Certainly a different experience from the common Rabbit, you'll need to use quite a lot of lube to really feel the full extent of the Sqweel but it's worth it when you do.
Whilst I admit I didn't orgasm when using this, I would reach for it again and it would be interesting to try using this in the shower.
The Sqweel 2 is priced at £39.99 and is available from Lovehoney.co.uk.