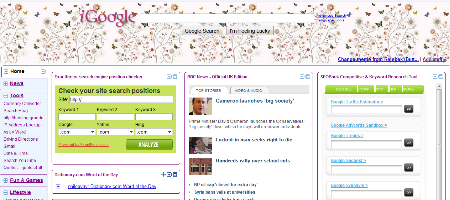 If you're a heavy user of Google services like Gmail, the Calender and Google Docs, it makes sense to have everything collected together in one place.
iGoogle does this by acting as a homepage and a base to access all your services whilst also having some useful widgets and gadgets to hand. You can pimp it up with your own backgrounds and styles too.
As a blogger, I find it particularly useful for keeping track of my RSS feed, my Remember The Milk list, checking the thesaurus and keeping up with the latest news. Which reduces my procrastination by 37% (probably).
To get an iGoogle page, simply click on the iGoogle link in the top right hand corner of your Google search page and you can start building it, using your Gmail sign in if you have one.
Once you've got your iGoogle page you can start moving things around and adding those all important gadgets!
Here are a few suggestions, which are particularly useful for bloggers.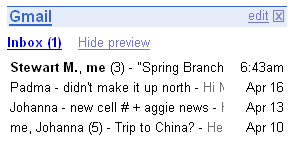 The Basics
Gmail – Quick access to your emails with an easy overview box.
Google Reader – A simple viewer for all your blog feeds on your front page. It's also worth knowing that you can add your RSS feeds into their own gadget on the iGoogle page, which is particularly good if you want to keep particular feeds separate.
Google Calender – A mini-version of your Google Calender, with quick event adding function.
Google Documents – Displays your most recent documents and allows you to open them directly from the gadget. You can also add a Google Documents gadget within your Gmail inbox for easy integration.
Google News – Regularly updated with the latest news with relevant tabs. BBC, Sky and CNN all have alternative gadgets.
Hotmail – If you use Hotmail as well as Gmail, this can be a big time-saver. You can also view, reply and delete from this gadget.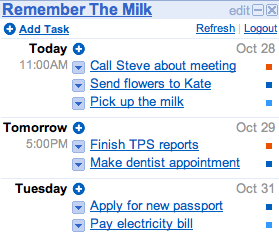 Work
Remember the Milk – One of the best To Do lists available. Lets you tick off, postpone or edit any upcoming tasks. If you're signed up for the alerts you'll also get a round up of today's To Do list in your inbox every morning.
Blogger – Publish straight to your blog page from the front page.
Digg – For anyone that uses social bookmarking, this is essential. Also check out Reddit's gadget.
ExactFactor search engine position checker – Clever gadget that allows you to check the website rankings for any three keywords across the three big search engines.
SEOBook – Tool that allows you to check everything from the Google Trends and Traffic, to keyword checking and PPC.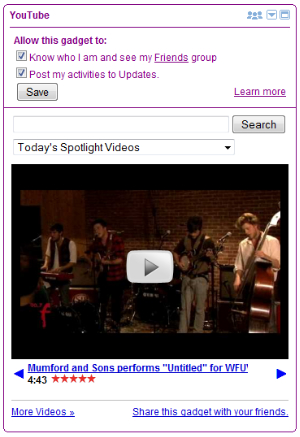 Just for Fun
BBC Good Food Recipes – Not sure what to have for dinner tonight? Turn to this little gadget for a bit of inspiration.
Tetris – Horribly addictive retro game. Wave goodbye to your productivity with this one.
YouTube – Pretty self-explanatory, a gadget with all the latest YouTube videos. It'll even make recommendations once you've used it a few times.
So that's a few of my suggestions. Do you have any interesting or useful iGoogle gadgets to recommend?