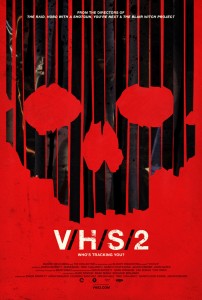 Gore hounds and horror lovers rejoice! The 14th annual Film4 Frightfest hits London's West End next week, taking over the Empire Cinema on Leicester Square. The programme is full of gems to discover, and wouldn't you know it, I've got some recommendations for you.
Prepare to thrill…

Pick of the festival: You're Next
Already praised to the heavens as one of the freshest horror films in years, You're Next is the festival's opening night closer. Directed by horror darling Adam Wingard, little is known about the plot so far. It revolves around a family getaway, in the middle of nowhere (of course). Sharni Vinson stars as Erin, an unlikely but efficient foe for the invading animal-masked baddies.
Main Screen, August 22nd, 11.30 PM
V/H/S 2
Speaking of things that Adam Wingard has done, we come to this. A sequel to the 2010 horror anthology V/H/S, this features more found-footage goodness, with original directors Wingard and Simon Barrett returning alongside newcomers such as Gareth Evans (The Raid and its upcoming sequel Berandal), Gregg Hale (one of the producers of seminal found-footage classic The Blair Witch Project) and Jason Eisener (Hobo With a Shotgun).
Main Screen, August 23rd, 9.15 PM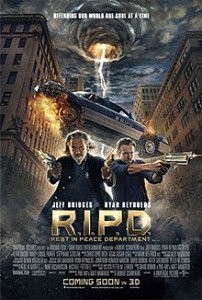 R.I.P.D
Not text speak for "ripped", but rather an acronym for Rest In Peace Department. What is that, you say? Why it's an agency that recruits recently deceased police officers to patrol the afterlife and capture entities known as "Deados", spirits that failed to cross over and now haunt Earth as malicious ghosts. It sounds completely bonkers, and that's probably because it is. Panned by critics, it was a box office bomb in the States. Still, it might be worth a watch, if only for the presence of Jeff Bridges as an ex-US Marshal from the 19th century (suitably bonkers name : Roy Pulsipher). But if you're not in the mood, best pick up the comic instead.
Main Screen, August 24th, 8.55 PM
In Fear
TV-director Jeremy Lovering (slated to direct the first episode in the new series of Sherlock, fact fans) makes his feature film debut with this creepy two-hander. A couple (Alice Englert and Iain De Caestecker) are on the way to a festival, planning on cementing their new relationship at a small country hotel. Only, they appear to be driving in circles. And then into a dead end. As the night turns into a dark maze of dirt tracks and dead ends, the couple try to find a way out, followed by an unknown tormentor. The scares are genuine, with Lovering deliberately withholding parts of the script for his leads to make their reaction more natural. A unique debut, worth catching.
Main Screen, August 25th, 1 PM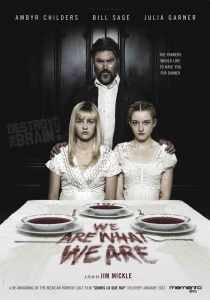 We Are What We Are
A re-imagining of 2010's Mexican horror film of the same name (Somos lo que hay in Spanish), We Are What We Are is a story about two teenage girls with a cannibalistic secret. Following the death of their mother, Rose and Iris Parker are ordered by their father to keep the macabre rituals of their family going at all costs. Visually beautiful, subtle and with outstanding performances, We Are What We Are could be the perfect closer to your FrightFest experience.
Main Screen, August 26th, 6.30 PM
Also worth going to…
Curse of Chucky, because there's life in the old doll yet. (Main Screen, August 22nd, 9 PM)
Variety Spotlight : Ben Wheatley, because our erstwhile Dork Hero will be talking about his career too. (Main Screen, August 23rd, 3 PM)
Nosferatu, because Max Schreck is still terrifying, even 91 years later (Discovery Screen 2, August 25th, 6.30 PM)
Antisocial, for all your technology-related paranoia needs (Discovery Screen 1, August 25th, 9.05 PM)
I Spit On Your Grave 2, because you're a martyr for the horror genre and would willingly sit through this sequel of the remake (Main Screen, August 25th, 11.30 PM)
And lots more to get your teeth into. Tickets can be bought from the Empire Cinemas website. For more information, I direct you to the FrightFest website. Now, get to buying those tickets! It will be awesome!
And gruesome…