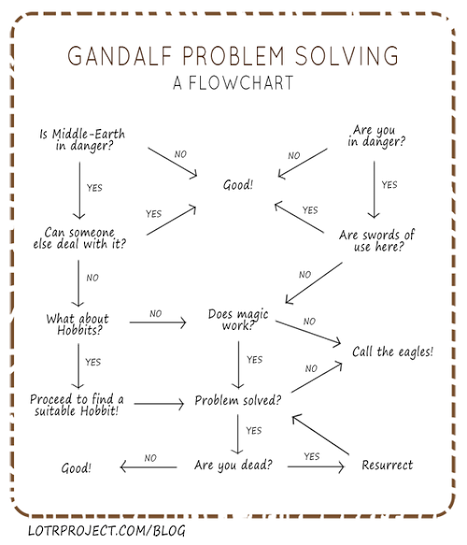 I've got 99 problems, but destroying The Ring or saving Middle-Earth ain't one.
To be honest, life seems pretty simple when you compare it to Gandalf's. He should be relaxing and enjoying his wizard retirement; putting his feet up and swapping war stories with Elrond. Instead, he has to traipse around collecting Hobbits and other magical types, just to dispose of evil jewellery or save the mountain of a group of ale-loving Dwarves.
Frankly, it all sounds a little annoying.
Thankfully, if he's stuck with what decision to make when faced with a tricky topic, he has this flowchart to refer to. And if the situation gets really tricky, he can just die and resurrect himself. Marvellous.
I think there's room for other Problem Solving Flowcharts too. Perhaps a Jedi one. Or a Spock one.
Whose Problem Solving Flowchart would you like to see? Let us know in the comments below.