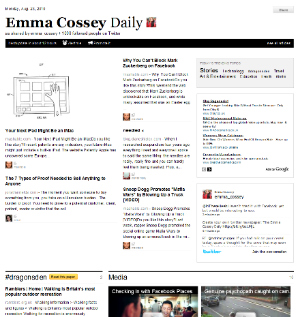 Eagle eyed Twitter users might have noticed a number of tweeters, including several members of the Dork Adore team, linking to "The Daily [Insert Name]" every afternoon. But what is it?
The basic concept is that by logging into Paper.Li with your Twitter username, you'll be able to create a daily newspaper featuring all the people and companies you follow. The newspaper mainly features the articles, sites and media (videos, images etc) they've linked to, as well as some live feeds for popular topics.
Why do I need one?
It might sound a bit gimmicky, but it's a useful way of seeing all the resources your friends and colleagues are sharing, which you might have missed during the day. The site also splits your newspaper up into simple sections like Trending Topics, Stories, Technology, Art & Entertainment and more detailed sections based on popular #hashtags and a photo gallery.
You can even create a newspaper based on a keyword or hashtag, or search for other newspapers already published.  Then simply wait for your newspaper to be created and you can share it with all your friends and family.
It's basically like being a real life newspaper editor. Without the questionable morals.