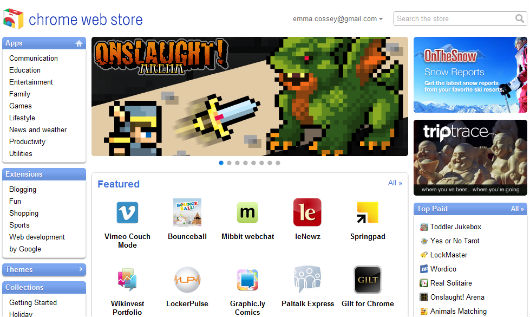 Oh Firefox. I've loved you for so long. Your reliable add-ons and stylish customised browser layout have kept me loyal for a long time. But I have something to confess…
I've been cheating on you. With Google Chrome. I'm afraid Chrome's sexy new Web Store has seduced me. And it gets worse. I've been cheating on Hootsuite too, with my ex Tweetdeck.
I think you'll understand when I tell you what Chrome's Web Store has to offer.
Tweetdeck
Tweetdeck now has a happy home on the web as well as the desktop. It can now be added as an app to Chrome, which is great news for current users, and very tempting for Firefox and IE users.
The majority of features are still there and, aside from the analytics features, could provide a big competitor to Hootsuite again.
TweetMeMe
An extension rather than an add-on, TweetMeMe is an easy way to share the content you're currently visiting on Twitter. Plus it tells you just how many times the page has already been tweeted.
Aviary
Aviary is a useful image editor which leans more towards the varied elements of Photoshop rather than simpler options of Picnik (which, incidentally, is also in the app store.)
Springpad
I've never really found Evernote that easy to use, so Springpad is an excellent alternative for collecting images, links and section of text. You can set up separate folders which is useful if you're dealing with a number of projects at once. Plus you'll get email updates each week reminding you what you've saved.
Graphic.ly
For all the comic book fans, Graphic.ly is a cosy little haven to read your favourite comics online. There's 700 available, and some of them are even free.
What are your favourite Chrome apps?