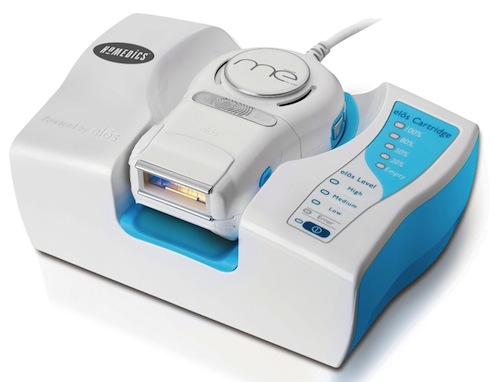 I really loved the E>Swin E>One IPL hair removal device. It was amazing. After just one use acres of previously fallow hair meadowlands became empty-follicled wastelands. But it cost a fortune, and it took so long to set it up and use it that I didn't manage to get it out of the box more than once.
Which is why I really love the HoMedics mē my elōs IPL unit. Like the E>Swin E>One this is an IPL unit designed to be used at home, saving you time and money. Also like the E>Swin E>One it has an unnecessarily stupid name (double reward points to iPulse Smooth Skin for being pronounceable)
The HoMedics mē is so easy to use because you don't have to worry about spooging yourself with ultrasound gel. And you don't have to divide your leg into sections with chalk like the some kind of leg-based Lawn Tennis Association. In fact, you're positively encouraged to go over the same patches more than once – so long as you leave a 10-second gap in between.
That's the key to it really. This unit is so easy to use – switch it on, set the pulse strength, switch on the handset and you're away –but it's also weaker than larger units which is why you can go over the same areas. This makes it so much more convenient, but it does mean that it will take a lot longer for it to have any effect. The manual says seven weeks, but I waited at least 10 before I saw any serious fuzz reduction.
It's also not so comprehensive as some of the more powerful units. You won't be left completely bald at the end of 10 weeks. In fact, I'm still using it regularly and I'd say it's all still pretty patchy.
For that reason, Homedics has designed the mē to be used with an epilator attachment. You can also get a razor attachment.
Although it would be nice if it worked permanently after 10 uses, it still wins points for being so easy to use. If you're time-strapped and want to see a reduction in hair – and if you're happy to continue epilating to top up your hair removal activity – this is a great option. If you want something more powerful and you've got the time to give it (and the money), you'll be better of seeking out a more permanent solution.
Available from Argos, Ebay, Amazon and Boots
Blurb from Homedics: 
The fastest treatment times – approximately 30 minutes for a full body treatment and only 10 minutes per full leg
Most effective – up to 89% hair reduction after only 4 treatments
Suitable for use on the widest range of skin types
Easy to use – no 'stop and stamp', just a continuous gliding motion, similar to shaving or epilating
No need to apply gel on the skin prior to treatment
The only home use hair reduction system powered by elōs technology