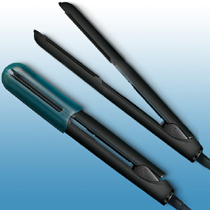 It's probably quite clear by now from our recent post that Dork Adore is firmly a collection of GHD devotees. Personally I've tried out a few other types of hair straighteners, including the wet-to-dry ones and the cheaper ones, but I always come back to GHD.
However, if the beauty buzz in the blogging world is to believed, they may have a strong competitor in new brand Cloud Nine. The lovely people at Kiss and Makeup have got their hands on one of their straighteners to test out on their tresses.
Cloud Nine hair straighteners come from some of the same designers of the original GHDs, so already you know you're on the right track. Zara tested out the slimmer plates, although there are three different designs, and noted the variable heat setting.
From the photograph Zara has taken after going through the hair just once, there already looks to be a major difference in the texture of the hair.
So what were the pros and cons?
Wins points for:
Handy heat guard
3 sizes
Adjustable heat
Quick, shiny and glossy results!
Easy to use for curling
Loses points for:
🙁 No pearl effect as suggested
🙁 erm…the price?
Conclusion
Could this actually be the first straighteners to knock GHD off its pedestal?
You can buy them from Cloudnine for £129.99