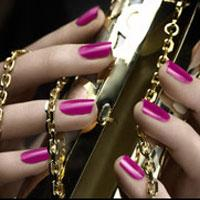 Since finally growing my nails and giving up the biting habit this year, I've become quite partial to a manicure or two to keep my nails looking pretty.
I've also developed a fairly unhealthy obsession with buying Nails Inc. nail varnishes. They tend to last quite a while without chipping, but I'm still always on the look out for products to make them last even longer. Sadly, I don't have quite the patience Katie has to do my own gel nails.
Speaking to a friend about nails recently, she told me about a treatment Nails Inc. do called the Everlasting manicure.  The manicure claims to last 3 weeks once applied. The thing that impressed me about the treatment is that you can paint over the manicure and if you remove it with an acetone-free nail varnish remover, the original manicure will remain underneath.
My friend's nails looked lovely with a classic manicure, and I'm definitely tempted, even if the price is a little unnerving. The 3 week manicure is available in a range of colours and styles for £50.