I did a piece about doing your own UV gels at home a while back. But since then, things have moved on apace.

While it was quite tricky to find professional gels (such as Bio Sculpture) for home use, more companies have started producing products available to the general public: you no longer need a special licence to create salon nails in front of the TV.
What's more, you no longer need giant UV lamps to cure your nail gels; you can use tiny, time-efficient LED nail lamps that cut curing times in half (or more) and are super-portable. What's more, the bulbs last a lifetime and you'll save a fortune on electricity (they're around 12 watt instead of 36 watts for UV Lamps)
SensatioNail LED Gel Starter Kit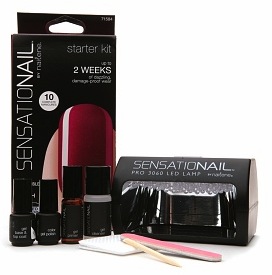 The SensatioNail Starter Kit  (£69.99 from Boots; £60 from Asda, $50 at Walmart) comes with everything you'll need to do 10 applications.
The kit I tried came with a very nice Scarlet Red as the main colour, as well as the base coat, mini Pro 3060 LED Lamp and all the extra bits and pieces like wipe off, nail prep and lint-free nail wipes. Since you're likely to pay around £60 for an LED lamp on its own, the price is a bargain and works out a lot cheaper than getting 10 professional gel manicures.
You can buy individual colours separately for £10-£15 (Boots, Asda, Walmart).
SensatioNail is designed to last for two weeks before removal (using acetone). I'm surprised the company doesn't mention that you can file the top layers of gel down and fill in the tops where your nails have grown instead – half the joy of having gel nails is being able to keep a protective gel layer over your natural nails while they grow. And removing gel with acetone every couple of weeks is going to leave your nails brittle and sorry-looking.
Possibly this is because the gels just don't last that long. I will update you when mine hit their two-week birthday.
The company DOES make a big thing about being able to paint nail polish over the top. This is another great thing about gels. One thing to note is that if you want to take it off again without damaging the gels, buy an acetone-free varnish remover. That way you can change colours as often as you like.
Things I liked
It's very easy to apply (especially if you're used to using gels). You may need to practise a few times if you're not used to using it, but it's much more like applying nail varnish than other gels I've used (like Bio Sculpture).
The LED lamp is very quick compared to a UV lamp and it's so much less cumbersome.
It looks lovely and seems to be lasting well (so far – will let you know if that changes!)
The lamp will work with any other UV gels, so you can eBay your old UV lamp.
Things I didn't like
My only minor complaint is that there isn't a huge range of colours available (yet). However, since the lamp works with other gels, you could always look at Red Carpet Manicure gels (from Drugstore.com in the US) I haven't tried these yet, but people seem to be as excited about Red Carpet as they are about SensatioNail.
Nothing else so far!
Conclusion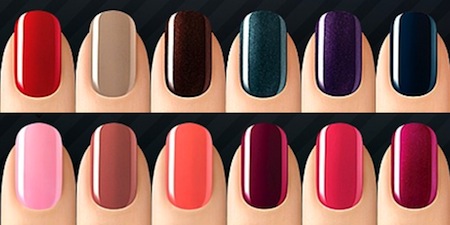 I've been wearing the gels for the past few days and they still look glossy and lovely. The gel doesn't feel as hard as Bio Sculpture, but I've been really impressed with the quality – especially considering the significantly lower price. A lot of cheaper gels I've tried refuse to paint right to the tips and creep back before I can cure them. The colours of cheapers gels are often more wishy washy as well, but the red in the kit was vibrant and bold.
Usually, when I put gels on at home myself, I spend an entire evening putting on enough layers, waiting for the gels to cure with a big, heavy UV lamp balanced precariously on the arm of the sofa. With this kit, I'd done the whole lot in under 30 minutes with my tiny LED lamp nestled neatly on my little nail table (it moonlights as a nail table; usually, it's a footrest). I admit, I have a bit of a thing for LEDs; they're almost as magic as magnets.
It's safe to say I was REALLY impressed with the Nailene SensatioNail kit. The fact that you can get such a brilliant kit for home use at such a reasonable price is amazing. I'm already excited about buying new colours and I can't wait to try a spot of geek nail art on top of my lovely gel base.
Buy from:
Check out the SensatioNail website for video tutorials and more information.