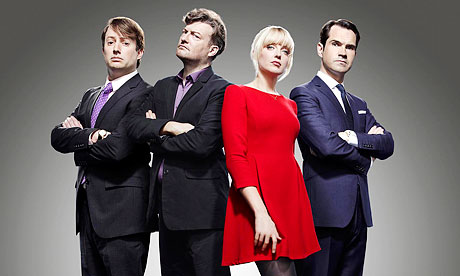 When UK television has tried to do uber-topical comedy in recent times, the tendency has been towards easy jokes rather than tackling the issues, with a much greater emphasis on the 'comedy' bit than the 'topical' (the well-intentioned but ultimately rubbish Tonightly is a good case in point).
So how would Channel 4's latest — and massively-promoted — attempt 10 O'Clock Live go down?
Bong! Topical comedy show in promising start shock
As someone still in mourning over the wonderful Daily Show being cancelled on More 4, leaving us with only the weekly Global Edition which NOBODY LIKES, I approached 10 O'Clock Live with a mix of trepidation and an optimism that could not be quelled, much as I tried. I really didn't want to get my hopes up only to have them cruelly dashed, but when you bring Charlie Brooker and David Mitchell together to talk about the news and how television covers it, it's hard not to think "ohmygoodnessthiscouldbethegreatestthingever!"
It wasn't, of course, the greatest thing ever, but it wasn't nearly as bad as the knee-jerk reactions I caught on Twitter 30 seconds into the broadcast would have you believe either.
There were issues, sure, and a couple of major ones too. The format needs to be completely freed up and slowed down so that these naturally funny, clever people have time to show it (the phrase "we'll have to wrap it up there" was uttered far too frequently) and Lauren Laverne deserves more than a couple of links and one godawful sketch.
But the positives were also biggies. David Mitchell is clearly not going to be intimidated by his interviewees, and will ask the sort of straightforward questions we always want asked, and I trust no-one but Brooker to hold newcasters to proper account.
Jimmy Carr is still a hate-figure for some, but he more than held his own in the "presenters just sitting around having a chat" section — a section, by the way, that worked really well and of which there should be much more.
And ultimately, the reason I'll stick with 10 O'Clock Live is the knowledge that it's being made by people who really care that it's well-made, well-researched, and funny. With Brooker's Zeppotron production company behind it, he has more of a vested interest than most, and I've genuinely no doubt that the presenters and producers will work their little socks off to make it as good as they possibly can.
And the winner is…
Brooker's news-busting pedigree was honoured on Saturday night at the British Comedy Awards, newly re-homed on Channel 4, with a win for the excellent Newswipe. With several awards having already gone into, shall we say 'safe' hands (Michael MacIntyre for Best Male TV Comic, Harry Hill for Best Comedy Entertainment Personality) I was beginning to think Harry Hill's TV Burp was a shoo-in for Comedy Entertainment — so was pleasantly surprised to see the fashionably-coiffed Charlie head up to the stage.
Brooker's quiff became a bit of a theme of the night actually, and formed a centre-point of a great recorded speech by Russell Brand, who managed to bag himself 'Outstanding Contribution to Comedy'. I don't get it either, but hey, I think the guy's very talented and his speech in which he praised British comedy and playfully mocked Brooker was fantastic. "You used to be on the outside!" he said (sort of; I'm paraphrasing) "in your flat with the clocks on the wall. Now look at you, with your celebrity hairstyle and your celebrity Blue Peter wife! Come back to us Charlie!" Funny stuff.
Elsewhere, Miranda (both the show and the person) was the big winner of the night, and apparently I'm not allowed to be annoyed that Armstrong and Miller didn't win Best Sketch Show because it was beaten by the genuinely excellent kids' show Horrible Histories. Harrumph.
Moments of the night came courtesy of Robert Webb, who feigned a breakdown as Jonathan Ross outlined David Mitchell's many achievements, and Open All Hours and Last Of The Summer Wine writer Roy Clarke, who touchingly paid tribute to the talented comedy writers and performers in the room.
Next week, I'm afraid there's more Brooker-action with new BBC Two show How TV Ruined Your Life, and Horizon takes a look at why science is "under attack".