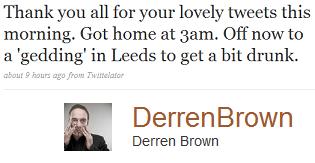 Last night, for the first time ever, Derren Brown made a bit of a pig's ear of his grand finale, finally proving that he *is* human after all and not a bearded devil beast.
In fact, The Events hasn't been quite as much fun as the usual Derren stuff. The number of times he seemed to pander to Living TV viewers by suggesting things like "the wisdom of crowds" and "deep maths" were adequate explanations for how he did his tricks made me feel a little bit depressed.
And yet, I still love him, in spite of it all. Maybe he put a spell on me using some form of revolutionary subliminal video nonsense.
His latest project – The Science of Scams – should go some way towards fixing the spread of mumbo jumbo. Except, of course, it's unlikely to be watched by 20 million people, like the TV show.
Anyway, enough of my pitiful whining. I may have been hoping for a Jamie/Hugh-style national campaign against pseudo-science, but he's Derren, not Dawkins.
Have a look at his lovely little ginger beardyface.