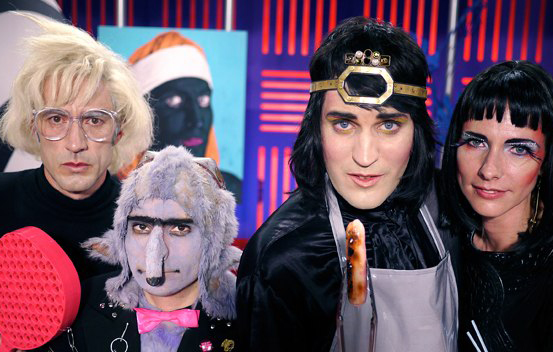 Like many, it took me a while to get into The Mighty Boosh, but now I'm one of those people that gets into tetchy arguments while defending it against charges of gross hipsterism. So as a committed fan, I was fascinated to see what Noel Fielding's solo project, Channel 4's Luxury Comedy, would be like…
But is it art?
Despite my love for Noel's work with Julian Barratt, I have to say I approached his new sketch show with a little trepidation. What really grabbed me about the Boosh wasn't the surreal characters and lo-fi, hand-made visuals, it was just Noel and Julian sat on a bench bickering like an old married couple. I embraced the oddness, but it was the traditional double-act stuff that grounded the show.
From the publicity, though, Noel Fielding's Luxury Comedy appeared to be 100% surreal characters and lo-fi, hand-made visuals. They were always Noel's domain — he's had several art exhibitions around London — and without his verbal sparring partner, it seemed that 'grounding the show' was about as far from his mind as observational skits about aeroplane food.
After the first episode, I was left feeling a little flat. I'd chuckled, and the show did indeed look great thanks to the fantastic hand-painted sets and costumes, but the sketches didn't seem to hang together particularly well, and I didn't feel I'd quite got a handle on what Noel was trying to achieve yet.
Thank goodness I followed my own advice and gave a new comedy series a second chance then, as the second episode was a whole lot more enjoyable. Themed around art — with appearances from Andy Warhol and discussions about whether dressing up as a 'fireman baby' is a concept or a joke — the second episode had a satisfying cohesion that was lacking from the first. Is Noel Fielding's Luxury Comedy laugh out loud funny? No. Is it interesting, cleverer than it likes to make out and, most importantly, going somewhere? Looks that way…
Holiday from hell
Sky One has scored a few hits in both drama and comedy recently, but perhaps top of the pile is Mad Dogs — and the second mini-series has proved just as much fun as the first. With a central cast that comprises Philip Glenister, John Simm, Marc Warren and Max Beesley, it would have had to be a pretty woeful script for it to be a total disaster, but in fact these great actors get to deliver some witty and believable dialogue and, best of all, it is immaculately, classily directed.
In the first series, this set of middle-aged-men-with-baggage found themselves in receipt of drug money and having shot a cop while on holiday in Majorca. And in this series, things have got worse. They've been shot at, almost blown up, had a voodoo curse put on them and threatened with execution, and all the while they snipe at each other, look after their own interests and have moments of selfless camaraderie. Massively entertaining, and — luckily for us — not over yet: Mad Dogs 3 is being filmed right now.