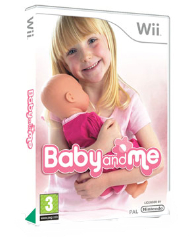 I recently sold my Wii after months of it sitting next to the TV gathering dust. Great console, but it just didn't get enough usage. I wonder if this is why the head honchos at Nintendo are reverting back to aiming their games at the much younger age market.
Particularly as they seem to dominate the TV anyway.
The game on the right gives me the heebie jeebies though. Recently released in Australia, Baby and Me is a Wii game which comes with a Doll-mote (a creepy name in itself). The life-like doll uses the Wiimote's speakers to laugh or cry. You can then use the Wii Fit board to 'burp' or rock the baby and even teach it to walk.
As much as a a plastic doll can walk.
Will your daughter (or son) be getting this in their Christmas stocking?