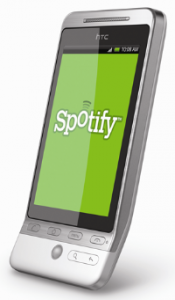 I've always been a bit of a sucker for HTC handsets and those of you not yet in thrall to the iPhone may quite fancy the HTC Hero.
Not only is the Hero 3 UK's first Android phone, it's also the first time membership to Spotify Premium has been included in a tariff.
The great thing is, you can use it on your PC too, so you don't have to listen to ads any more. You'll have to sign up for a two-year contract, but you get Spotify included with the fee. Plus, you can synch up your playlists and listen to them on your phone even when you don't have signal. Neat!
Spotify Mobile for the HTC Hero will cost £35 a month (plus an upfront fee of £99) and includes
• Unlimited Spotify Premium for mobile and PC for 24months (worth £240)
• 750 minutes to other mobiles
• Unlimited texts
• Unlimited 3 -to – 3 calls
• Unlimited email, internet browsing and Facebook
• Free Skype-to–Skype calls
You can register for more info here.
HTC Hero on Carphone Warehouse.