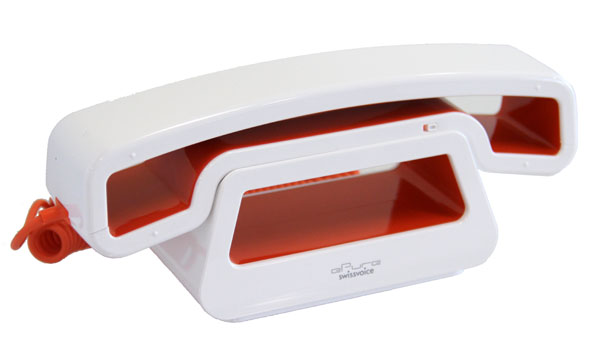 There's something very pleasing about the Swissvoice ePure CHo1. It's the combination of old-fashioned corded phone framework with a completely modern look that does it.
The weighted base it sits on certainly helps. This is a handset that feels like it cost money. Perhaps because it did – £39.99 in fact – which is no small sum to hand over for something that basically makes Skype calls more enjoyable.
I love the look of this Swissvoice handset, and the audio quality is brilliant. But this is something you'd probably only purchase if you use Skype for making calls a lot.
Luckily for Swissvoice there are plenty of those sorts of people about these days. So if you're one of them, and you're looking for something pretty that can make you feel like your trendy home working set up is complete, this is the handset to go for.
CH01 £39.99 (with the weighted base) and CH05 £29.99 (just the handset) are available in hot pink, sunset orange, sky blue, bright green and white.

You can now get two Bluetooth phones that can connect to a mobile phone, PC or tablet. The BH01i ePure phone station comes with a retractable dock for your iPhone that will charge your phone and work as a stand for video calling. BH01i is £149.99 (RRP) and the BH01u is available for £129.99 (RRP).
Available from www.amazon.co.uk and www.iwantoneofthose.co.uk