Lady Diana Spencer knew how to rock a knitted pullover. If you think you've got similar knitwear chops, the Princess of Wales's Muir and Osborne sheep jumper pattern is now available.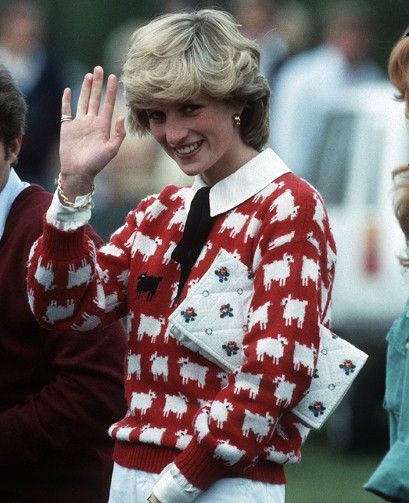 The Sheep Sweater knitting pattern can be downloaded in exchange for a donation to p/hop, the crafty fundraising arm of  Médecins Sans Frontières/Doctors Without Borders.
Muir and Osborne were called Warm and Wonderful back when Princess Di wore their now iconic Sheep Jumper, but changed it to something more fancy thanks to all the constant jokes.
Sally Muir and Joanna Osborne have pretty impressive dork credentials, too. Aside from the obvious one (they knit a lot) they can also get credit for creating the excellent Best in Show: Knit Your Own Dog and Best in Show: Knit Your Own Cat knitting pattern books and their sheep sweater once boasted both Penelope Keith AND David Bowie as proud owners (as well as Diana).
PLUS, one of their cardies featured as an important plot device in the Truman Show.
Download Diana's Black Sheep Jumper knitting pattern
[via Crafty Crafty]