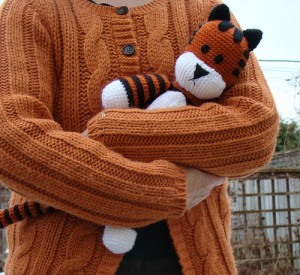 If you are a fan of Calvin and Hobbes, this free crochet pattern by crafty Canadian blogger Sukigirl is a real treat!
She decided not to sell her pattern, but to share it for free. After all, Calvin and Hobbes creator Bill Watterson did not want to commercialise his work.
She created her pattern by working closely with Watterson's drawings of Hobbes to make the finished product. Originally a project to make a toy for her now 23-year-old son, the pattern — and a step-by-step guide through making the toy — is now available for everyone to make for themselves — and for loved ones.
As with a lot of free patterns, you can make your own Hobbes as a gift, but not to sell – Bill Watterson wouldn't like it for one!
Please share with us if you use the pattern, tell us about your experiences and take a look at more crochet patterns on Dork Adore.
Calvin and Hobbes Crochet Pattern