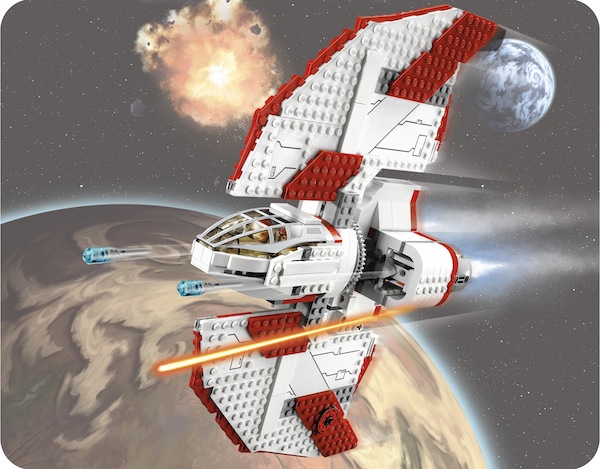 Sometimes I think the deciding factor when you're a geek thinking of becoming a parent is that at last you will have an excuse to buy lots of cool Star Wars gear. I mean, why was there no LEGO Star Wars when we were kids?
Praise the Jedi, there's plenty of it now.
Newly released for 2011 in the LEGO Star Wars range is the T-6 Jedi Shuttle. By now all the iconic Star Wars visuals have already been recreated in LEGO, so we're down to the stuff you might not know as well, but which still looks pretty cool because, let's face it, it's Star Wars.
Cool points on this substantial model for the ace red and white design, rotating wing action, missiles to flick and a detachable cockpit that turns into an escape pod.
Four mini-figures are included: Anakin Skywalker (looking quite youthful, but already showing a penchant for dressing in black. We know where that's going), Obi-Wan Kenobi (think plastic Ewan McGregor with wild staring eyes), and new Jedi Masters Shaak Ti and Saesee Tiin (not the most well-known of Jedi, it's true, but satisfyingly alien and complete with their own lightsabers).
LEGO is suitable for children
The box states that this set is suitable for ages 8 -14, and my son (nearly 8) and I (let's just say over 14) took around two hours to build it between us.
The instructions are fairly simple, but it is a complex build that you have to concentrate on to get right. We stopped and remodelled quite a few times.
I find that LEGO Star Wars models are never the sturdiest of toys, and with this one the wings have a habit of detaching themselves mid-battle. But then you can rebuild, mash them up with other models and create your own galaxy far, far away.
Which is how the best creative play starts.
LEGO Star Wars T-6 Jedi Shuttle™ (#7931 RRP £49.99) is out now. Currently reduced to £43.99 at Play.com and Amazon