Boon makes a range of trendy parenting tools, including Grass – a crazy plastic lawn for you to dry your trendy baby gear on – and Squirt – a weaning spoon that you can fill will puree.
If you're a fan of Alessi gear, you'll probably like the designs.
The Boon Mush is small, good looking and easy to use. The blades are very sharp, which means that it's remarkably effective at pulverising cooked baby meals. Simply pull the handle and the blades spin round.
Related: The Best Baby Food Processors |  JML Ninja Master Review | ROK Manual Espresso Maker: Review 
We used it to chop cans of tomatoes for our grown-up meals too. It's a lot smaller than larger processors, like the JML Ninja, so it can sit on the side in the kitchen without making itself a nuisance.
Like the Rok Manual Espresso Maker, the Mush baby food processor is a great camping gadget.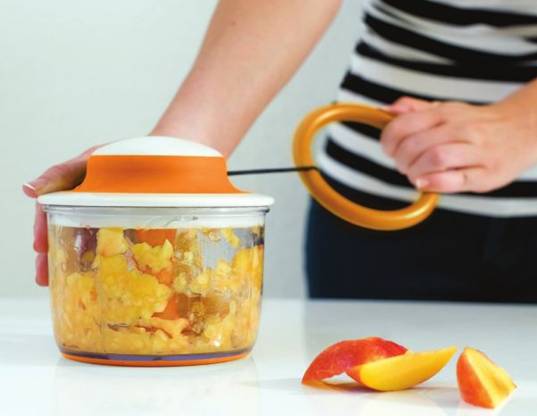 One thing that may give you pause is the fact that creates choppy purees rather than totally blended food. It's probably more useful for later stages of weaning if you're not a baby-led weaning type.
I'd definitely recommend one of these to parents. You may find yourself resorting to the standard kitchen hand blender when you're first starting weaning, but after that, it's a handy thing to have at home, on the road or in the camp site.
Related: The best gadgets for camping