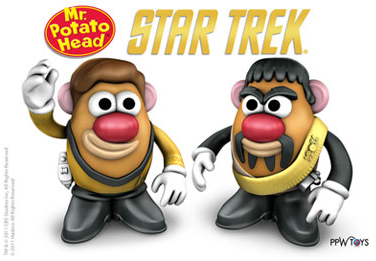 I don't think I've been this excited about the release of a toy in, well, ever.
This August sees the release of the Star Trek: The Original Series Mr Potato Heads by PPW Toys, retailing at $30 a set (approximately £19). The first two in the range will be Captain Kirk and his Klingon nemesis Kor, and I'm hoping we get a Mr Spock version shortly afterwards.
Of course, being the fully flexible Mr Potato heads we know and love from our childhood, it will be perfectly possible to mix and match the components to create your own weird alien hybrids.
However, Dean Gorby, business manager of PPW Toys, says  that they 'wanted to ensure that the figures could be enjoyed and displayed even if they were never played with'  which I think shows a good understanding of their customer base right there. Although I do imagine most of these will end up sitting in the box on a collector's shelf, I would absolutely have to play with mine. I know, I'm a terrible sci-fi nerd.
I'd also really like to see a range of these toys from Star Trek: The Next Generation because I can't be the only one who thinks a Borg Mr Potato Head would be really, really fun.
What other Sci Fi series do you think are ripe for a Mr Potato Head make-over now that Star Wars and Star Trek have had a go?
Source: Star Trek press release