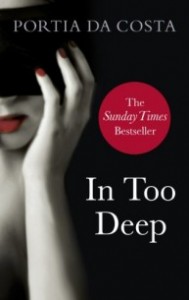 Is Fifty Shades of Grey getting you down? Are you looking for something hotter, spicier or… well, better? I have just the solution for you. This week in our Erotic Fiction of the Week, we have a sexy professor, a buxom librarian and mysterious lust notes. If your curiosity (and libido) are piqued, read on…
The Specs
Title : In Too Deep
Author : Portia Da Costa
Pages : 320
Publisher : Black Lace
Genre : Erotic romance
The Story
Gwendolynne Price, a young librarian, starts finding increasingly erotic lust notes in the suggestion box at work. Shocked at first, Gwen becomes intrigued by her admirer, Nemesis. As if the notes weren't enough, Gwen is dealing with an increasingly intense crush on the historian doing research in her archives. Professor Daniel Brewster sets women's hearts a-thudding, but it is Gwen who he falls increasingly smitten with.
Soon, the erotic letters and sensual emails start to collide with the kinky games played out in the all too real flesh.
Can Gwen unmask Nemesis? Can she survive the pain of losing Daniel when his research finishes?
Or is she finding herself in too deep with both men?
Why Should You Buy?
It's set in a library, and libraries are cool as.
Gwendolynne is an engaging heroine, who grows throughout the book.
Professor Daniel Brewster. Nuff said.
The letters from Nemesis are scorchingly hot.
It's got suitable amounts of both kink and romance.
Get a copy today from these places :
For more sexy things on Dork Adore, search our Love/Sex tag!