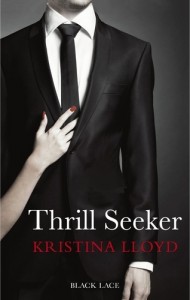 This week, my pick for Erotic Fiction Of The Week is so new, it hasn't even been released yet! Three more sleeps until you can get your hands on this dark and daring tale by one of my favourite people in the world, Kristina Lloyd. Picture this : a seaside town, a kidnap fantasy and a troubled, broken man from the lead character's past….
The Specs

Title : Thrill Seeker

Author : Kristina Lloyd

Pages : 336

Publisher : Black Lace

Genre : Erotic thriller

Out : May 9th
The Story
After being betrayed by her lover, Natalie Lovell starts exploring the world of internet dating. When Natalie meets a dark and sexy stranger online and shares a kidnap fantasy with him, things get complicated.
Natalie gets in all sorts of trouble, but it's never that easy.
Not when you've got baggage like Baxter Logan hiding in your closet…
Why Should You Buy It?
Because no-one quite knows how to write female submission like Kristina Lloyd does.
Baxter Logan is damaged and imperfect, which makes him an excellent foil for Natalie.
It's been described as 50 shades darker than EL James and Sylvia Day, so you know you at least want to have a thumb-through.
The British seaside makes for an excellent setting, as Lloyd proved in her controversial Asking For Trouble.
There's a bonus story included at the end!
Snap your copy up from one of the following places :