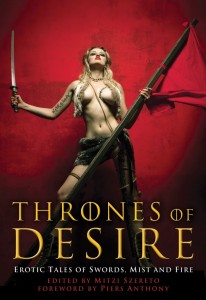 Game of Thrones. It's one of the most talked-about shows on television and, quite possibly, one of the most watched. Mitzi Szereto. An author unafraid to take risks with her erotica, already having published books like Pride and Prejudice : Hidden Lusts and Dying For It: Tales of Sex And Death. Probably one of the most-read writer/editors out there.
Combine these two forces and you get the thrilling package in this week's erotic fiction spotlight. Enter the world of Thrones of Desire….
The Specifics

Title : Thrones of Desire – Erotic Tales of Swords, Mist and Fire

Edited by : Mitzi Szereto

Pages: 222

Genre : Erotic anthology/fantasy

Stories by:  Madeleine Moore (In The Kingdom of Roz), Janine Ashbless (Of High Renown), Sacchi Green (Flesh and Stone), and eleven other authors.
What is it about?
Step into a world of unknown dangers and excitement, with Thrones Of Desire. Edited by Mitzi Szereto and inspired by Game of Thrones, the anthology contains 14 fantasy-inspired short stories by a mix of familiar names such as Janine Ashbless and Ashley Lister and new up-and-comers such as Jo Wu and Megan Arkenberg.
Set in fantastical lands, full of knights, kings, dragons and druids, let this collection appeal to your inner adventurer (which I'm sure is deep inside you…). The mystical settings combined with the steamy sex scenes will make you wish you were born in the realm of knights and queens. Oh, and dragons. Of course.
Why buy it?
It's an unusual theme for an erotic anthology and one that you have to check out. #
It'll make you drift off into an unexplored world.
The mix of authors showing their goods is excellent.
Mitzi Szereto knows how to do a good fantasy anthology.
You know. Dragons.
Buy a copy from