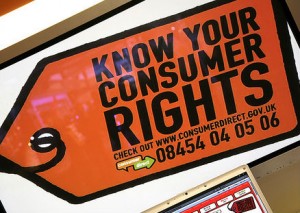 Did you know that if you order something online and you change your mind when it arrives, you're legally entitled to a full refund – no matter what the website's returns policy is? All to often, people believe that if they buy a product online and it's not what they wanted, it's their fault and there's little they can do about it. But there's a handy law that it's worth knowing about if you ever find yourself trying to get your money back.
The Consumer Protection (Distance Selling) Regulations 2000 were created to make sure consumers have a right to:
receive clear information about the supplier, the goods or services and the sale before deciding to buy;
confirmation of this information in writing;
a cooling off period of 7 working days in which to withdraw from the contract; and
protection from payment card fraud.
What is a distance contract?
These regulations apply to any distance contract. A distance contract is a contract for a good or service through an organised sales or service scheme by the supplier (i.e a website) where both participants communicate without being face to face.
What are the requirements of the regulations?
Give consumers certain information prior to conclusion of the contract.
Give consumers confirmation in writing or in another durable medium which is available and accessible to the consumer (email is acceptable, but providing the information on a website is not), of the prior information and also provide consumers with additional information
Refund consumers within a certain time period.
Perform the contract within a certain time period.
It's worth bearing in mind that the regulations do not apply to some forms of distance selling. The sale or transfer of land or buildings are not covered, as well as the selling of financial services. Services carried out by automated machines, i.e photo booths are not covered, and any contract carried out over a pay phone or an auction are exempt.
Cancellations and Refunds
Under the regulations, the consumer can cancel a distance contract by notifying the supplier in writing. The regulations also allow the consumer to request a refund, although it's worth bearing in mind that you may have to bear the postage costs.
So if you order something online and it's nothing like you wanted, or you order a service online that doesn't reach your expectations, you have every right to request a refund. Even if you've simply changed your mind, you can still request a refund under the 7 day cooling off period.
You can read more here on the Distance Purchases Act.