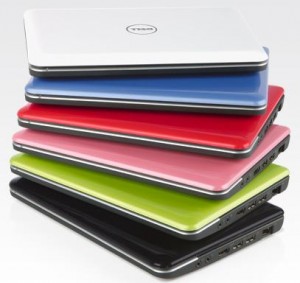 I started out my gadget career reviewing laptops for What Laptop magazine and while the specs may have changed beyond all recognition, knowing how to pick a good one is the same as it ever was.
Here are five simple rules to follow when choosing yourself a new notebook.
1. Look beyond the specs
Check out the latest top end processor, graphics cards and maximum RAM and memory. Bear those in mind when purchasing, but don't be ruled by them. There's a lot more to a laptop than its specs and going for the biggest "bang for buck" doesn't necessarily make for a good purchase.
2. Read reviews
Laptops change regularly and if you want to be sure of getting a good one, you need to read the reviews. PC Pro and What Laptop take machines into their labs and run some serious benchmarking tests. Again, benchmarks aren't the be-all and end-all, but they can be helpful if you're stuck on your decision.
Consumer reviews are helpful too because they tend to pick up on things that techies may have missed. Plus, they are often based on long-term usage while professional reviews are done to a tight deadline.
3. Give it a good grope
If possible, you need to get your hands on a machine before you buy it. Here's how you give it a good going over.
Open the lid and check the hinges – do they feel secure and well-made?
Press the middle of the lid and see how much the screen distorts and buckles. Ultraportables tend to be a bit more flimsy than desktop replacements, but if your chosen machine is allowing the screen to bend under slight pressure, imagine how it's going to cope with being carried around.
Press the keys on the keyboard firmly. Do all the keys around it move along with the key you've pressed? If so, it's not a very good keyboard and won't be much fun to to type on in the long term. You want keys that feel springy, but solid.
Check the keyboard layout. It's not enough just to tap the keys, you need to make sure that the return key, space bar and shift keys are all where you want it to be. If you use the Control key a lot, make sure you're not constantly hitting the Function key.Little things like this are important. You'll get used to certain changes in keyboard layout, but sometimes having a tiny backspace key that's in the wrong place can seriously grate
Check the ports. It's not like the old days any more, when people wanted parallel ports, Type II serial bus connectors, 50 other ports: now all we're really after is a plentiful supply of USB ports and a card reader. But you need to check a machine has what you need. Check the location too: common complaints include USB ports that are all on the wrong side for a mouse, or ports that are so close together you can't use them.
4. Don't buy for the name
I think there's something to be said for brand loyality. If you find a company you trust, why shouldn't you buy their products? But don't buy something just because it's made by your favourite brand. Not all machines are created equal, and don't just assume that because it's made by a big name, it's going to be good.
5. Buy on looks
Possibly contentious, but if you're paying a lot of money for something, why on earth shouldn't you expect it to be be beautiful?
If you want a pretty laptop, buy yourself a pretty laptop! Yes, you could probably get a super-power, high spec, processing beast for the same price, but if it looks like something still hankering for the good old days of the Cold War, why would you want it in your life?
[Pic: Dell Mini 10 netbook]