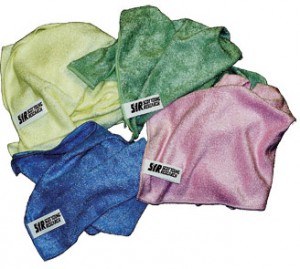 Call me a total nerdlinger, but I can't resist a microfibre cloth (aka e-cloths). And being something of an eco-bore, I'm trying to assuage my guilt about procreating (possibly the single worst thing we can all do for the environment) by reducing the little one's huge carbon footprint.
You can already get terry towelling and various types of multi-coloured bamboo and cotton reusable baby wipes (Amazon has a big selection). But microfibre baby wipes (or microfiber baby wipes if you like your words spelled American) seem to be harder to locate.
Luckily, making your own reusable microfibre baby wipes is very simple. All you need is a big stack of cloths, some scissors, a tupperware tub and – if you're feeling especially adventurous – a sewing machine.
B&Q sells packs of 50 cloths for £19.99 as does Screwfix. You won't need anything like this many, but microfibre isn't cheap and buying this way means you're set for cloths for quite some time – plus you can make gifts for friends. Alternatively, you can treat yourself to these colourful cloths in packs of 10 for £6.85 from the Funky Chef.
Then, all you need to do is cut the cloths down to the size you'd like and store them away in their own tupperware tub, Thanks to the way it's made, you don't need to hem the microfibre if you're not keen on sewing. It looks neater if you do, of course, but I'm sure your baby's bottom won't object. I just ran the machine round the edges to help reduce fraying, but they only fray a little way before settling down again.
You can wet your wipes with good old-fashioned water as and when you need them or you can buy special soaps to create ready-soaked wet wipes. Thrifty types can follow these recipes to make their own wipe solution.
And that's it! Simple!
I know that some people are likely to point out that microfibre is made from man-made fibres and is oil-based, and I did fret about this. However, the fabric is so much softer on a baby's bottom (most of the other fabrics lose their softness in the wash), extremely absorbent and fast-drying and it doesn't need chemicals to wash effectively.
Non-organic cotton wool is harmful to the environment, organic cottom wool costs a fortune and "biodegradable" wipes create methane on landfill. So while I'm no expert, I figure the years of use I'll get from these cloths, plus the fact that I'll pass them on with the washable nappies when I'm done, means the wipes have more than atoned for their original sin. And with the money I save, I'll plant a few more trees just to be on the safe side.