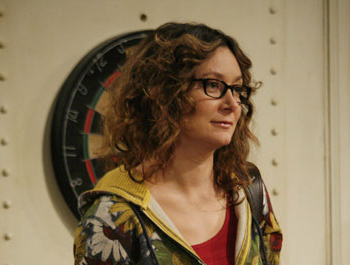 She might not be the most obvious fashion icon, but Leslie Winkle is sort of my hero.
She's super intelligent, with a brilliant sense of humour and invariably gets one over the boys in the show.
Despite being a nerdy scientist, she also gets her fair share of bedroom action. A sexually liberated female character who isn't panned for it is unusual anyway, but one who's a nerd as well?
Awesome.
Leslie's look isn't exactly high fashion — consisting mostly of hooded sweatshirts with graphic print tees — but it is pretty good for lab wear. Mind you, in my lab days it was lucky if I managed to get out of my pyjamas before falling through the door so the smallest bit of effort impresses me.
Scientists can't be wearing heels all day and lab conditions are pretty variable, so layering is key. And, of course, no self respecting nerd is going to be seen without their black rimmed glasses. My only criticism is that Winkle often has her hair down in lab scenes. Not very health and safety, is it? My old lab tutor would have had a fit.
I've compiled together an outfit suggestion for emulating Leslie's look, so click the cut for some geeky inspiration:
The answer to the question 'Who made Sheldon Cooper cry like a little girl?'
Topshop hoody £22 –Paul & Joe sister combat trousers £71 – Delia's t-shirt $9.99 – Topshop bracelets £10 – Converse £37.99
What do you think? If there's a geeky icon you'd like to see us cover let us know in the comments, or by tweeting @dorkadore!