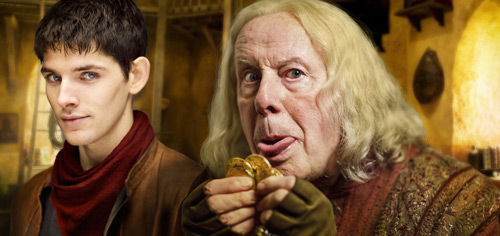 After two weeks of high drama in Merlin, in which many fought but little was resolved, the third series presses on with a sharp contrast. Yes, this is one of the occasional comic relief episodes, in which building a sense of threat comes a distant second place to the need to keep the kids amused.
So a goblin is loose in Camelot! He is mischievous and likes to lick gold coins, even though he doesn't know where they've been. In fact, he often picks them up off the floor himself and licks them. Soon, he has possessed Gaius and hijinks ensue. But is it fun or just stupid?
Black And Brown Magic
Whenever a wacky, kid-friendly episode of Merlin rears its head, I think back to last year's two-part troll story, which marked a low point in the boy wizard's history to date. So I was hesitant, but found myself enjoying this. Notably, it was written by Howard Overman, of Misfits and Vexed fame, who has proven rather adept at blending drama and lower-end humour.
Yes, I prefer the episodes which have the drama and comedy more in balance, but a silly story every so often is fine. There are even fart jokes, which are a risky smell to unleash on your adult audience, yet I laughed. Maybe I am a man-child, or I've watched too much Inbetweeners lately.
But Gwen's refusal to approach Arthur because he'd seen her fart was brilliant, I thought. I might be wrong.
Character Acting Is More Fun
The CGI goblin doesn't actually appear much; largely it's either a tiny firefly or inside Gaius, but it's a decent enough effect when on-screen. And Richard Wilson, acting up whilst possessed, clearly has a good time; much like Morgana in recent weeks, in fact. It's probably a fair guess that playing over-the-top villainy is more fun than being a stoic nice type.
Meanwhile, Colin Morgan gets to employ an expression of frustrated annoyance, which is one of his best ones, and Anthony Head models a stupid hat. And yes, for our female readers, Bradley James is briefly topless, although not for long before being covered up against his will.
In conclusion, I came into this with low expectations and ended up entertained, even though a lot of it is a tad puerile. Maybe if you hoped for brilliance, you'd be disappointed, but still, after two weeks of heavy drama and frowning, I didn't mind this. How was "Goblin's Gold" for you?
More Merlin on Dork Adore | Merlin: Our Series Three Wish List