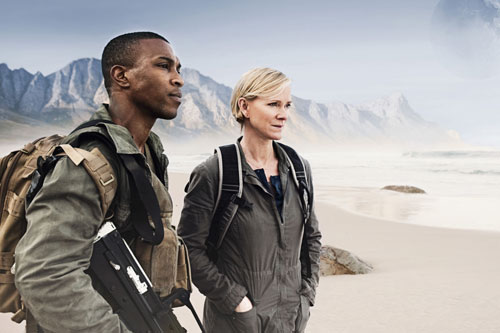 I'm sure that one of the reasons I write for this most excellent of sites is because I'm the kind of girl who can't help but fall for a drama series that starts with a black, starry sky and a big old space ship gliding overhead. But it has to be said that, great cast, cool vistas and glossy camera flare notwithstanding, BBC One's new sci-fi programme Outcasts doesn't half have some problems.
Actually, that's unfair, it has one main problem: the dialogue.
The drama (which looks awesome in HD by the way if you have it) follows a community of humans on the planet Carpathia led by the very presidential President Tate (Liam Cunningham) and a bunch of generally messed up scientists and military men.
There were plenty of seeds heavy-handedly planted in the first episode: a virus that infected the young and probably wasn't quite eradicated, "things about Tate you should know", something bad in jovial Cass's (Daniel Mays) background, and some evil-looking guy strangely reminiscent of Ugly Betty's Daniel Meade heading down to Carpathia in a transporter as his ship broke up.
In an odd way, this feels very American. It looks fantastic and is hugely ambitious in scope, but ultimately it's kinda trashy because the dialogue is so dodgy — remember shortlived US drama Invasion? It's essentially that. Or, as we have an 'us vs them' scenario, Lost. Or The Event.
At least the excellent Daniel Mays got the sort of memorable entrance he deserves, wandering through windowless grey corridors walking a pig on a lead. No real reason for it, but it raised a smile. Though on the other hand, he does have to take part in scenes that include the exchange: "Where are you going?" "To get some answers…" Still, I like seeing Mays and Hermione Norris acting together and for all it's clunkiness, I'll keep watching.
And if you're going to keep watching, you can read all of our Outcasts reviews so far.
Island of marvels
Madagascar is a bit of a Mecca for naturalists. It is split in two by a spine of mountains with forest and a vast sandy plain on one side, and lush jungle on the other. But most importantly of all, it has been separated from the mainland for millennia, meaning an astonishing 85% of its wildlife can be found nowhere else on Earth.
The perfect subject for a David Attenborough series, then, and he introduces us to leaping lemurs which act ridiculously like humans, gorgeous little hedgehog-like tenrecs, and the weird giraffe-necked weevil, an insect which uses its insane neck to fight with rivals.
Then there's the pygmy chameleons which are a just few millimetres larger than your average ant, crawling about in the leaf litter on impossibly spindly legs. Most of this, as a nature programme junkie, I've seen before, but there were a few species which were completely new to me: the tiny (and very cute) reed lemur for instance which lives its whole life in reed beds, never once going to dry land, or the frankly menacing-looking giant mongoose.
Attenborough, birds that puncture the base of flowers with their beaks to get to the nectar, a spider using its silk to hoist up a shell — I love this stuff.
Next week, I try to catch up with Mad Dogs having missed the first episode… dammit!