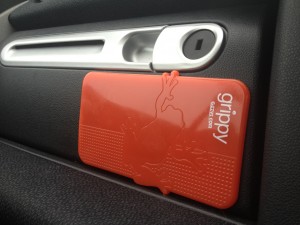 I tend to find car holders for my phone are too fiddly. When I find myself in an "emergency sat-nav" situation (I suddenly realise I'm lost) it takes me a long time – pulled over at the side of the road – battling with a holder to get it in place.
It really is very frustrating.
Grippy could well be the answer to these problems.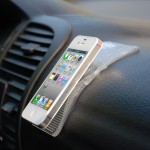 It just sticks to my car dashboard and I stick my phone or sat-nav on to it. I was a little apprehensive about Grippy's ability to hold my phone in place, but I haven't had any accidents yet. I can't foresee any problems with anything lightweight – when I tested it, it stuck firmly to the dashboard and held on fast to any gadgets I stuck to it.
The Grippy Pad is colourful, has a cute frog design and is wipe clean for when dust too is attracted to the pad. It is great for making hands-free calls too.
I used the Grippy pad in the car, but it can be used on any flat surface such as painted walls, windows, desks, mirrors – its uses are really only limited by your imagination.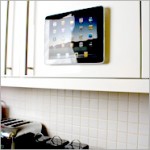 The only fault I could find was that when I removed a gadget from the pad, the Grippy came away from the dashboard instead of staying put while the gadget was freed.
This may be down to one side being stickier than the other, or because my car dashboard was not as smooth a surface as my phone. It is not a huge issue, it was just a little frustrating to have to pull the two apart and re apply the Grippy pad each time.
It believe that it is well worth the low price of £6.99 from Firebox.