Over in Norway, these little angels are selling like hot mince pies with brandy butter – and it's easy to see why. For quality stereo music from your smartphone this is the pie plate to finger first.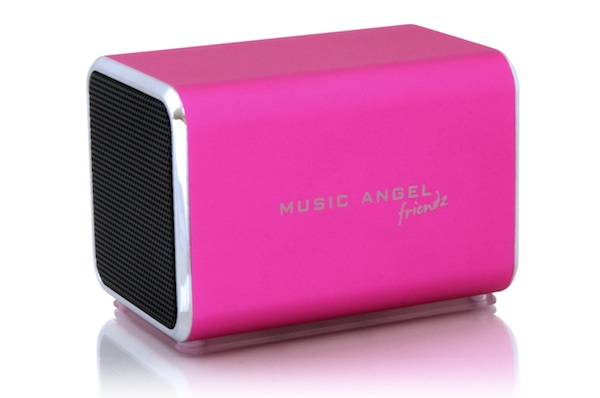 These Music Angel friendz come in the usual array of fun, funky colours – some metallic – that always appeals to younger music listeners. The concept is a decent warm sound in a compact cuboid form that is wholly portable in the customary snazzy, logo-ed pouch that comes with the purchase.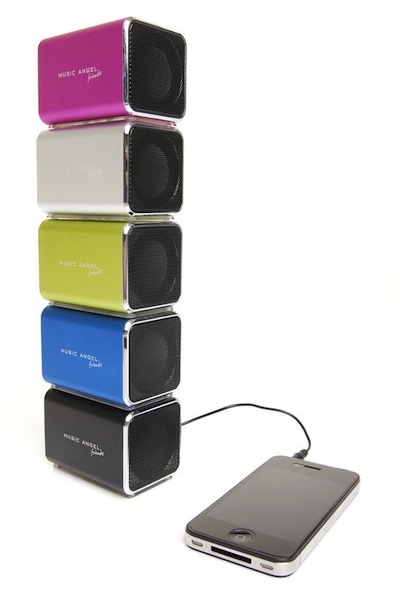 Connection is via the standard 3.5mm audio jack or a USB connection to your computer. There's also a mini USB if you need it (the leads are enclosed in the apple-esque packaging).
What is neat about these speakers is the 'friendz' part. If you have more than one of these you can connect them in serial to add depth and a greater sound to the music. At £25 each you may as well buy two. I really can see kids (or "kidz") getting together and stacking these speakers up on their non-slip rubber feet in the school playground, if they're not banned from doing so.
I've had the friendz for five days so far, and from box to now they have yet to run out of juice. This despite having the kids playing Justin Bieber (Baby, Baby, Baby, Naooo) non-stop from Spotify through the laptop. The box claims over a hundred hours of playback available, which I expect to able to confirm to you in another five days. The speaker doesn't charge your iPhone as it plays, however, so if you're after a speaker dock you might want to think about something more substantial such as the Sonoro Audio Troy.
The sound is warm — certainly not the tinny effect you get from smartphones or laptops — and fills the room easily, even with just one unit. The volume is controlled from your smartphone or other device.
I can also report that these friendz are drop proof having had the kids topple a stack of five onto the floor.
Finally, if you want to fall asleep to Radiohead's The King of Limbs on your bedside table, as I am wont to do on occasion, there is no better way than to line up your iPhone and friendz speaker on your bedside table.
Good price, good sound quality and a nice design makes the Music Angel friendz well worth considering.
Available from:
Sonoro Audio Troy: A stylish retro iPad Speaker that does a lot more: Katie is charmed by this wood and felt speaker and gadget charging station.
My First Digital Music Player from BabyZoo: Now your child can control how often you listen to The Wheels on the Bus. Yay.