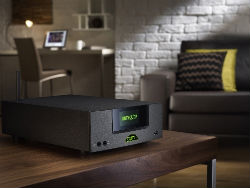 When it comes to high-end music centres, I'm usually somewhat overwhelmed by the sheer size and weight of the units. But regardless of their bulkiness, the sound quality is undoubtedly better then your standard £50 music system from Argos.
When Naim sent me their latest music centre, I was pleased to see it wasn't the space-dominating gadget I'd imagined. The UnitiQute is a miniaturised version of the standard products Naim offer, but doesn't downgrade on features. It follows the success of the NaimUniti, its WHFSV Award-winning network-capable system.
Feature rich music player
When it comes to features, this music system has plenty to boast about. It includes FM and DAB and can stream music from UPnP network storage, PCs or Macs. The system has inbuilt wifi and ethernet, so there are plenty of ways to connect. Music can also be played from your iPod/iPhone, MP3 players and other music storage devices, using the USB port at the front.
And if you're into rationalising your remote control collection, you can hide the clicker in a cupboard and control the UnitiQute with an iPhone app.
The only downside is the lack of CD player. I know we're in the digital age and all that, but I refuse to let go of my deeply uncool CD collection.
It's not cheap, at a steep £1350 at your local stockist, but you get what you pay for. High quality sound from a supremely professional unit.