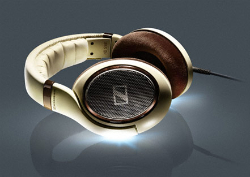 Regular readers of Dork Adore will be aware of our aversion to cheap and cheerful headphones. In fact, Katie wrote about it in 'Stop wearing those cheap headphones!'
We've already reviewed several headphones and earphones in the last twelve months, including products from Roxy and Audio Chi. But for your browsing pleasure, here are four of the best that look AND sound good.
Sennheiser HD 598
These Sennheiser HD 598 headphones are packed full of aesthetically pleasing features, including glossy wood sections and a leatherette outer. Fancy. While style fans will appreciate the retro feel, music fans will appreciate all the techy bits that give a great sound experience. As usual, Sennheiser delivers when it comes to quality headphones.
Audio Chi W2
Katie already reviewed the Audio Chi W2s, but they're worth a mention again.
On-ear headphones aimed at women all too often feature cutesy images of Hello Kitty, so it's novel to see a pair that appeal to females over the age of 13.
There might be some noise leakage at a higher volume but, really, do you have to have it at the top level?
You can buy Audio Chi W2s at John Lewis for £59.95.
Quincy Jones Q701 Premium Class Headphones
More funky headphones now, this time from musical genius Quincy Jones. The man behind the Thriller record has partnered up with AKG to create a range of headphones and earphones for the discerning music listener.
You can get your hands on Quincy Jones Q701 Premium Class Headphones on the right at the end of the month from AKG for €499.
Griffin MyPhones Headphones (for kids)
Finally, for the kids in your life, these Griffin MyPhones are designed to fit snugly over little ears. They cap the peak volume levels at 85 decibels so you don't spend long car journeys yelling at your little darlings to turn their music down.
The cans are customisable, either with ready-made earcaps or specially designed ones.
You can buy the Griffin MyPhones Headphones from £29.95 from the Apple store, which isn't too harsh on the pay packet either.
Do you have any headphones to recommend?