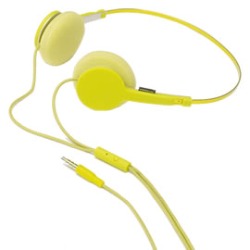 Alex Iszatt reviews the retro-styled Tanto Headphones
My new Tanto headphones from Urbanears have arrived. They're an olive green, or 'Sallad', which will go with the brown and beige outfit I bought from Zara yesterday.
As soon as I open the box I'm immediately taken back to my youth. The 80s style reminds me of my Sony Walkman headphones, which I used to adore and which went with my blue and white spotted ra-ra skirt.
They may be retro, but luckily, the headphones are not an exact copy. For one thing these over the ears Tanto headphones come in 14 different colours, to suit any outfit. Plus the ear pads are actually on my ears! And the far-from-retro inclusion of  a mic and remote on the fabric-covered cable means you can use them with a phone.
Sound and vision
So, the important things like colour and style are out the way, the second important thing is how does it sound?
Making a few calls, then listening to music, I was amazed by the good quality, as well as the comfort of wearing them. My favourite part of the headphones is that the ear pads move independently, you can adjust them so your full ear is covered, perfect for drowning out the rest of the world. Adjusting the headband is like the old Sony ones, but there isn't that massive gap between your head and the band.
In case you need anything else, there are two extenders in the box and the 3.5mm stereo plug ensures the headphones are compatible with a majority of devices.
You can buy the Tanto headphones from:
More headphones reviews on Dork Adore| Nice Cans! Four of the best headphones