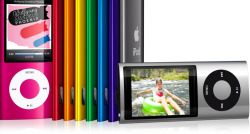 It's that time of year when companies start to look towards Christmas and release the products they hope will be at the top of every wish list.  The tech companies, in particular those that sell game consoles and compact entertainment systems, start to release details of their latest must have product.
Unsurprisingly, Apple are at the forefront of this festive competition. This year, they've bought out the iPod Nano 5G.
The important question is, what does the new iPod Nano offer that will propel it to the top of the list?

Well, the iPod Nano 5G features a video camera to make your own little movies on the run. You can choose to add a special effect from the 15 available, including film grain and motion blur. The larger screen will make it easier to not only play your movies back, but to watch your favourite films and TV shows.
It also features a radio function and the Genius DJ mix which has been available on iTunes for a while now. The radio function in particular is ingenious as it allows listeners to tag a song to be downloaded later (after all, you wouldn't expect Apple to plop in a radio without finding a way to make it pay).
The real benefit however will be felt by fitness fans, who can use the built-in pedometer to track fitness progress. Set yourself daily fitness goals and it can help you achieve them.
The iPod Nano 5G is currently available in 8GB (£115) or 16GB (£135) and comes in 8 colours. A relatively decent price, particularly for a Christmas present for a special someone…or to treat yourself!