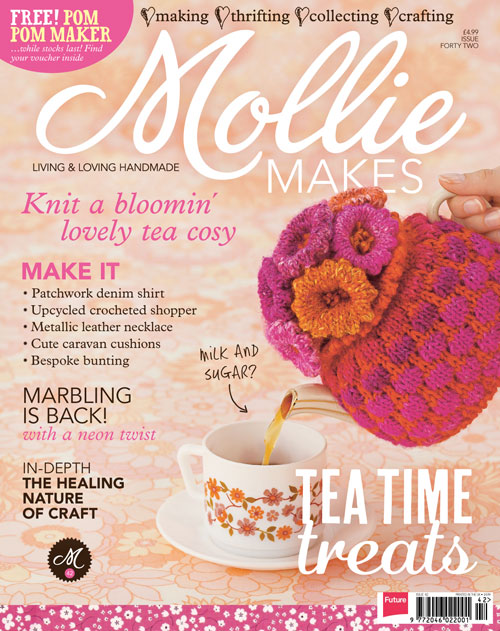 A couple of years ago, Emma Cossey confessed she'd fallen hard for The Simple Life – a beautiful magazine focussing on the slow life movement and the little things in life. Coincidentally, it's from the same company behind my current magazine crush. Yes, readers of Dork Adore, I am head over heels with Mollie Makes.
The motto of Mollie Makes is Living and Loving Handmade, something that oozes off every single page of this gorgeous magazine. It's a magazine that makes you want to not only take the time to read over a cup of tea and a slice of cake, but pick up your crafting tools and get to work afterwards. In other words, perfect motivation for any maker.
Five reasons why I love reading Mollie Makes:
1. The varied content
It's a perfect mix of articles and features about making, thrifting, collecting and crafting. Plus, you also get interviews with some of the craft and design world's biggest names, which provides great insight into what makes people like knitting geniusses Arne and Carlos and Tilda's Tone Finnager tick.
2. The tutorials
Need a little craft inspiration? Want to try a new technique? There are plenty of tutorials to try out each month, for crafters of all stripes. There's a bit of an emphasis on knitting and crochet, but even so, it's still varied – and the patterns are designed by experts in their craft.
3. Their bookazine specials
Every so often, Mollie Makes brings out a bookazine special about one specific subject. They've done a DIY fashion one (guest-edited by Lisa Comfort), a photography one, a DIY wedding one… and there are plenty more. I've got a copy of their blogging special and it's awesome. Gods of Mollie Makes, please heed my request and do a papercrafting one?
Plenty of extra content and tutorials.
5. The Back Page Project
A little platform at the end of the magazine for a guest writer to talk about anything that makes their heart sing. It's a lovely and heart-warming way to close the magazine, and it's usually the first page I read when I get my copy!
You can subscribe to Mollie Makes, or buy an issue, from the website. There's both a print and a digital edition you can subscribe to.
Do you read Mollie Makes? What's your favourite crafty magazine?