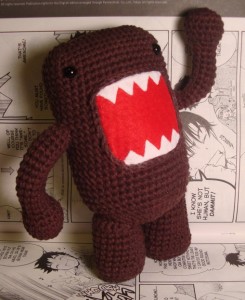 Domo-kun is a popular character in Japan where he acts as the mascot for their NHK TV station and the star of his own TV show in the US. According to the stories, he hatched from an egg and suffers from a locked open mouth, hence the crazy look.
He's become a bit of a cult-figure now and the crafting community has really got behind him.
The rather brilliantly named Nerdigurumi has created an amigurumi pattern to create this angry-looking fella, which they've kindly offered for free.
You can find more amigurumi patterns here, including Lemmings, Mario and Astro Boy.