We're still reeling from the excitement of Usain Bolt winning the 100m final at London 2012 last night (not to mention Super Saturday when Team GB had their best day of Olympic achievement for over a century).
A nice spot of calming knitting is just what we need.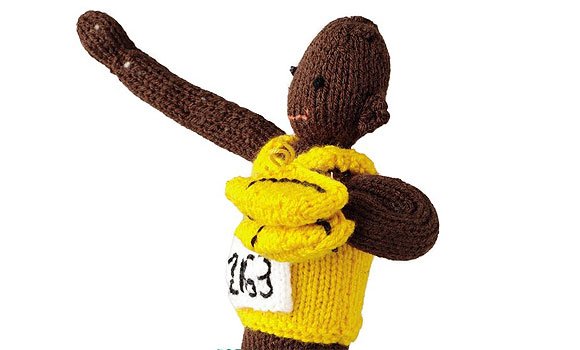 And, for some reason, the Radio Times has got into the Olympic spirit by creating a free knitted Usain Bolt pattern.
We're not entirely sure why a TV listings magazine is doing knitting patterns, but we're certainly not going to complain!
If you want to knit your own sprinting hero, head over to the Usain Bolt free knitting pattern page and get stitching!
Free Olympic Swimmer Pattern
There's another free knitting pattern for a female Olympic Swimmer over on www.deramores.com. That one is from Sue McBride's Knitting for Gold pattern book.
Alternatively, you can just create your own Knit London Cooey the Pigeon and take inspiration from his Whodunnit's many creative Olympic-inspired poses for your own pet pigeon.