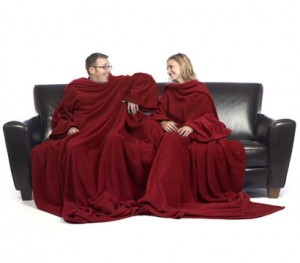 Picture the scene: You're sitting at home with your loved one, watching the latest episode of your favourite TV show and you feel a shiver. Winter is finally creeping in and you need something warmer to keep you and your partner cosy. Getting up and grabbing a duvet seems like too much effort, so what do you do?
Pull out the double Slanket!

The Slanket (a blanket with sleeves) has been popular for a while now, but the humble single version is not quite enough for two. Now you can pick up its bigger brother from Prezzybox, who have just announced its release in the build up to Christmas, to be launched on November 5th in ruby or chocolate for £49.95.
I bought the brown single one a few weeks ago, and it's definitely been useful in the colder evenings when I want to carry on working but not be restrained. All you need to do is pop your hands through the arms holes and pull the Slanket on. Admittedly, my family initially sniggered at my rather brilliant transformation into a monk, but I've caught two of them wearing it since to keep warm so it can't be that bad.
The truth is, you're going to look a dork in this. A warm, cosy dork. Is that such a bad thing?
Check out the full Slanket range on Prezzybox.