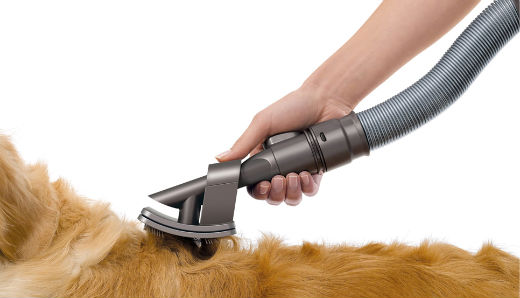 Dyson has announced a new tool for its vacuums, and it's focussed on our furry friends.
The Dyson Groom Tool, which looks like a fancy dog brush (because it is), fits on the hose of most of the models in the Dyson range. To work it, you pop the Groom Tool on the hose, and comb it over your dog. This picks up long- and medium-length dog hairs and dead skin before they even hit your carpet. You can adjust the pressure and suction too by pressing the button on the Groom Tool.
But the really clever bit is how the excess fur is dealt with after it's caught in the comb. The suction element is incorporated into the tool so, when you're done, it sucks all the fur back into the vacuum. No mess!
Check out the video below to see how it works.
I'm not entirely sure how much my pup, Toby, is going to enjoy being brushed with the Dyson Groom Tool. But if it means I don't have to worry about leaving the house with furry tights, count me in.
You can buy the Dyson Groom Tool for £40 direct from Dyson.
More Dyson on Dork Adore