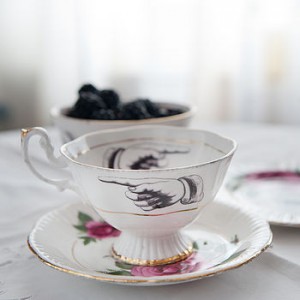 If the Mad Hatter was throwing a tea party for a bunch of techno bods, I reckon he'd probably invest in a few of these Wingdings inspired teacups from notonthehighstreet.com.
Delicate and prettily patterned, the bone china cups and saucers hark back to the good days of tea and biscuits in the drawing room, albeit with a modern twist. After all, what better way to update a classic than by adding a pointing finger icon from everyone's favourite dingbat font?
If you just can't get enough of Wingdings (and let's face it, it's much more exciting than Times New Roman) a cup and saucer will set you back £25. Use to serve Earl Grey for a geeky afternoon tea, or fill with cocktails to really bring fine china into the 21st Century.
What do you reckon? Does Wingdings have a place in the home, or is best kept on our computer screens?