I really liked the previous TOMY Digital Plus baby monitor, but how will the TOMY First Years Monitor TF550 updated version hold up?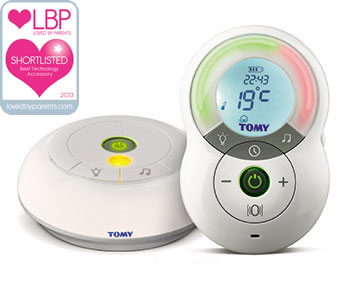 My last Tomy digital baby monitor bit the dust a while back. Despite being excellent in many ways, it just wasn't built to survive being knocked about by a small person (when in doubt, blame the toddler).
But despite my disappointment at its short shelf life, I was looking forward to trying the latest model, the TOMY First Years Monitor TF550. And there's no doubt that durability has definitely been improved in the TOMY First Years Monitor TF550 (£69.99). The parent unit has a far more compact and robust design – and the base unit is also smaller and more solid.
LESS PRETTY, MORE FEATURES
Despite that, compared to the Tomy Digital Plus Monitor, the TOMY First Years Monitor TF550 is not as good-looking. I liked the previous base unit and I thought the Apple-esque parent unit was a lot prettier than most other baby monitors. This one is more in line with other monitors out there, which is perhaps safer when trying to please everyone.
In terms of features, a lot of the same stuff is on board, including the richer sounds technology (when plugged into the base) and a mute function that mutes baby noises below a certain level so you don't have to listen to older babies chatting on to themselves. You can set it to vibrate, which is a handy addition. The parent unit no longer has a charging station and plugs directly into the wall instead. And I'm please to say that lullabies have been added, which is something I moaned about on the last model.
So what's good and what isn't?
THE GOOD
Sound quality on the TOMY First Years Monitor is excellent. As with the old model, it only cuts in when there's a noise rather than issuing that blanket shushing noise you get on a lot of monitors.
The battery life on the parent unit is excellent. It doesn't last from 7pm till 7am without a charge (it woke me up at about 3am), but it should give you a good 8 hours.
It's well made. Hopefully this one is as durable as it feels. I'd still like a bit more bounce-proofing, however, since they are easy to drop.
The clip thing is clever – it can be clipped to your clothes, or you can open it out to turn it into a little stand.
When you turn the sound up and down, a the lights flash round the top edge, which is a clever and simple volume indicator.
You can switch the light on and off on the baby unit using the parent unit as a remote control.
THE BAD
This is monitor is LOUD. Really loud. Everything beeps and pops when you press buttons. If it's not connected it beeps, when you charge it up it beeps, when you turn it up or down it pops, when the battery's low it beeps. Never switch it on outside the baby's room after you've spent an hour trying to settle them.
The audio is LOUD. Really loud. It's great the audio quality is so good, but it would be nice if you could turn it down one more notch. Listening to crying turned up to 11 isn't fun.
The lullabies are LOUD. Really loud. In the room they feel too loud for a baby to sleep through, through the parent unit they deafen out sounds of the baby and intrude on whatever you're trying to do. Plus they sound like they've been performed by a drunk with a glockenspiel.
Both units are bright. Really bright. I have to put a bag over the child unit because even with the nightlight switched off, the green power switch glows too brightly to make the room nice and dark for good, deep sleep. The parent unit also has an obnoxiously bright power button and the light on the screen dims after a few seconds, but still remains bright enough to annoy me in the night. I turn it face down on the floor by my bed, which isn't ideal.
The talkback button is on the cinched "waist" of the TOMY First Years Monitor TF550 unit – RIGHT where you would naturally hold it. Trying to avoid pressing it accidentally and broadcasting into the baby's room has made picking the parent unit up a stressful pastime. The other night, I pressed it and woke the baby up after 40 minutes spent trying to settle her. Whoever decided to put the talkback button there should be given a very stern talking to. It is almost a deal breaker for me. There is absolutely no excuse for such a basic design flaw. Now I always pick the unit up by grabbing the clip on the back.
FINAL THOUGHTS
This is a top-quality baby monitor. The sound is excellent, it's been very nicely put together and it feels like a premium product. But the LOUDNESS of it and the BRIGHTNESS of it and the extremely stupid talkback button makes it feel like it was designed by someone who isn't actually a parent. I admit that I have a very low tolerance for loud noises (having children wasn't possibly the best move, I know) but I do wish they'd taken that extra step to finesse these features.
Next time, TOMY, don't put a talkback button right where a hand should be!
TOMY First Years Monitor TF550