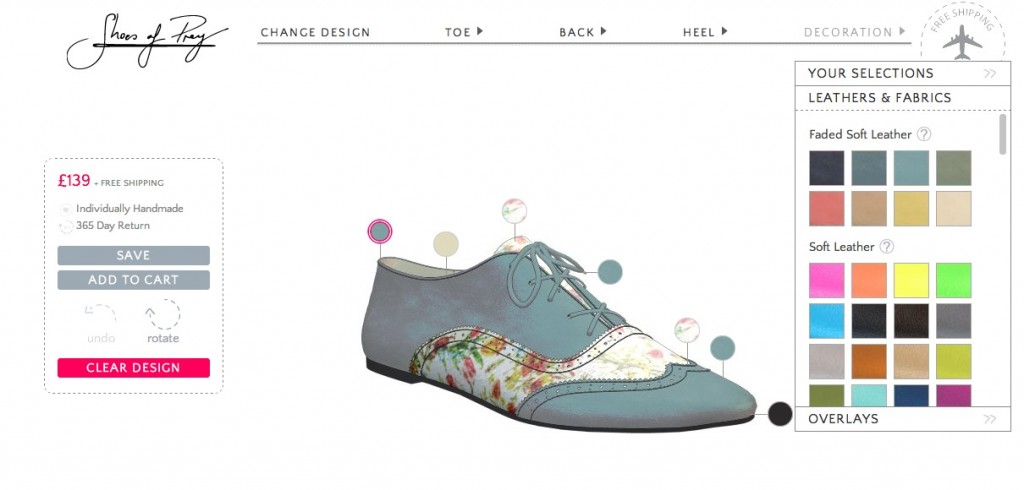 Customised fashion services are not a particularly new innovation. In fact, we mentioned a few a while ago in our round-up of the best ways to customise your life. But there's still room for a few new sites to pop up and give the more established sites a run for their money.
Shoes of Prey offers a shoe personalisation function, so you can design your shoe from scratch, including the fabrics, shape and embellishments.
Related: Get creative! DIY geeky footwear | Hack your shoes better with SOLE Custom Footbeds | Five of the best sites to customise your life
Design your own shoes
It stands out against the competition, because of the wide range of styles: there are high heels and ballet flats, strappy sandals and wedges. You can even design your own flat Oxfords (smart move, appealing to the hipsters). You can add a higher heel or a platform if you prefer, so the styles can vary wildly.
Prices are fairly competitive, with ballet flats and Oxfords starting from around £139. They've also just added a glitter option, so you can create a pair of seriously sparkly party shoes.
I've got my eyes on a couple of styles on the site to wear on my wedding day (wedding shoes in general are either hideously 80s or ridiculously high). They offer a generous 365 day return policy, as long as the shoes are unworn, so you don't have to worry about if the fit is wrong.
If you could design the perfect pair of shoes, what would they look like?