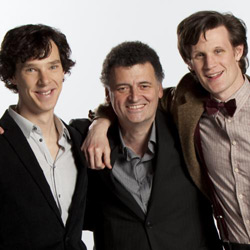 The Edinburgh TV Festival this weekend has brought forth some interesting announcements about the 2011 returns of Sherlock and Doctor Who from the BBC. Holmes confirmed for another coat-tastic year? The Doctor to regenerate in two separate halves? Clearly Steven Moffat's Cardiff-based TV factory is hard at work.
First up, Sherlock, the Mark Gatiss-co-produced revisitation of the legendary detective, is to return for a second series. Considering the scale of the cliffhanger they visited upon us in the first finale, I'd have been quite appalled if it hadn't, but it's still good to have it confirmed.
It appears the new series will be another three 90 minute episodes, and I suppose there's no point messing with the winning formula. Hopefully they will avoid the slightly weak middle episode this time and give us a perfect run.
The big daddy, Doctor Who, gets a more dramatic change, as its 2011 series will be split into two shorter runs, the first block in the normal spring slot and the second in autumn. According to the BBC Press folk, we can expect a gigantic plot twist at the midway break point.
Questionable motives?
When such alterations happen, our nature as nerds is to look for an ulterior motive. Did they feel viewers' attention was drifting over the course of a thirteen-week run? Is this to avoid showing new episodes in the June/July spell, when people might inexplicably go outside instead? Or do they simply want to give ratings a boost by having two "premieres" and two "finales"?
I suspect the answer might be all of the above, myself. But what do you think of this news? Is it the way forward, or a victory for commerce over art? And on a scale of one to ten, how happy are you about Sherlock's renewal?
Read the announcements on the BBC
More Sherlock on Dork Adore | More Doctor Who on Dork Adore