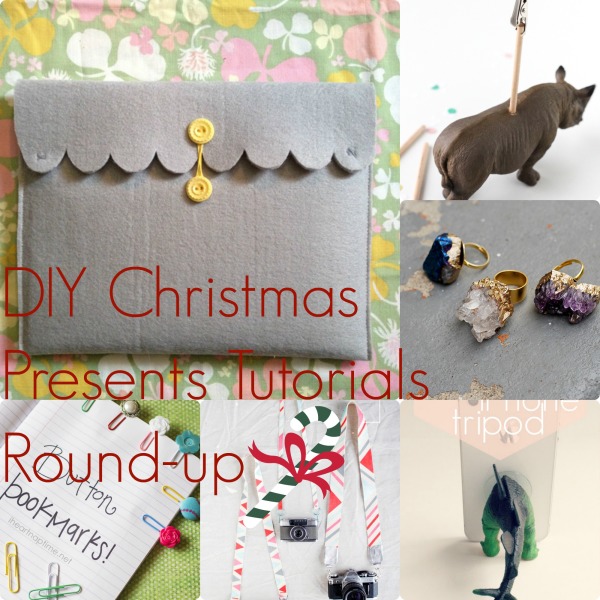 Alright. We've all been pretty much in denial for about two months straight now, but it's time to face up to the facts: Christmas is exactly a month away. Yep, the season to be jolly starts right here. And because we do love our readers, Team Dork Adore has made it their mission to guide you through the coming month (and a couple of days) with all you need to make this Christmas period your best one yet.
And if you're aching to get your craft on and turn this Christmas into a handmade one, then there's no better way of starting than with this round-up of DIY homemade Christmas present ideas.
DIY iPad Case
First up, Oh So Lovely Vintage has a great tutorial for a DIY iPad case. If you know a fellow techy is in dire need of a cosy case for their iPad (or netbook, or – with some adjustments to the sizing in the pattern – smartphone), this is a simple pattern with a very pretty result.
You can experiment with the colours of the felt and the buttons, if you don't want to stick to grey and yellow.
You will need a sewing machine to make this case, but you don't have to be a whiz on it – it only requires very basic stitches.
iPhone Tripod
eat.sleep.MAKE have this wonderful tutorial to make your own geeky iPhone tripod. All you need is a couple of plastic dinosaurs. Oh, and caulking, a suction cup and a paint brush, because a plastic dino alone won't work (obviously).
Beware though – for the project to work your dino has to be hollow on the inside. As you're cutting the dino in half to inject the caulking into the back, it absolutely has to be hollow. But a hollow plastic dinosaur aren't too hard to find – eBay has you covered.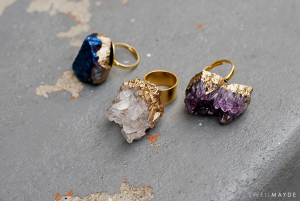 DIY Gold Geode Ring
Found on SwellMayde (excellent word play, there): a do-it-yourself gold gilded geode ring. That may sound a bit complicated, but there are actually only four steps in the entire tutorial, and they are pretty easy.
If you're currently blinking at your screen thinking "but where in God's name do I get a geode from?", there are a couple of useful links in the tutorial which will help you along the way. The result will be quite spectacular, and it's a nice piece of statement jewelry to gift to someone for Christmas.
Homemade Camera Strap
If you've got an aspiring phtographer amongst your loved ones, DesignLoveFest has a tutorial for a homemade camera strap that will take you about 45 minutes to make.
It even includes a little GIF which shows you how to get the geometric pattern on the strap just right. Of course you can experiment with it – why not make a couple of them (and one for yourself, even).
Animal Memo Holder
Sugar and Cloth have a tutorial for a present that's ideal for the busy bees amongst us: an animal memo holder.
Again, using plastic toy animals, which appears to be a big trend at the moment (as they are incredibly versatile in their use). This requires a bit of drilling, but it's only a little hole which will hold the dowel rod used in the project.
Button Bookmarks
I Heart Naptime (what a coincidence, me too) have these simple and adorable button bookmarks, which are a great mini-gift to give alongside a book.
All you need are paperclips, a selection of nice buttons, hot glue and felt. It can not actually be easier.
Peppermint Oreos
And finally, also from I Heart Naptime, a recipe for homemade peppermint oreos. Because who doesn't love getting baked goods as a present?
Peppermint and chocolate go well together, and it's a suitably festive flavour. Plus, if you can't get enough of the mint-choc combination, Jamielyn (who runs the blog) has got your back – there's a list of links at the top of the post which will lead you to plenty more mint-choc recipes.
Plus, she also does a quick explanation of how to make a festive jar to keep your cookies in.
Places to get your materials from
Check out our Crafts tag for more craft and DIY inspiration. And keep reading Dork Adore for more Christmas inspiration.
More Geek Christmas