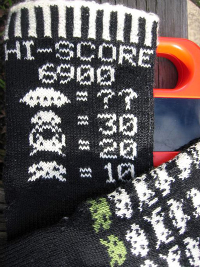 Space Invaders stole a large part of my childhood with its addictive playing properties. Therefore, it's only right that I pay tribute to this simple game by wearing the famous icons with pride.
A simple t-shirt just won't do. A true tribute to this mighty game can only be made through the medium of one particular item of clothing.
Socks.
Knitty has an excellent free pattern to create your own Space Invader socks, complete with game points.
Want to pass the retro gaming theme onto your mini dork?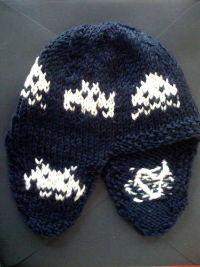 This cosy little hat will keep your baby's head warm, and will invite plenty of compliments.
To create the Space Invaders baby hat on the right, head to Instructables, who have a free step-by-step template available to create your very own version for your son or daughter, or even an adult. Simply extend the pattern available to suit the head size.
Have you found any great patterns recently that you think we'd love? Let us know!
More Free Patterns on Dork Adore