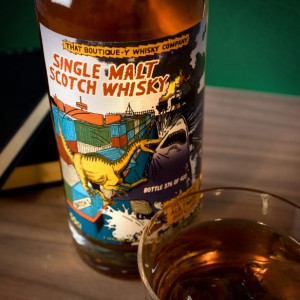 The branding of booze often falls into four categories:
Old man, in a hat, usually laughing.
Fancy writing and a simple logo to appeal to the more discerning buyer.
Birds & plants.
SUPER CRAZY BRIGHT DRINKS WITH 'ZANY' COLOURS. Designed to scream out to teenagers who embrace the quantity over quality approach.
Not exactly exciting, is it? What the world needs, is a spirit with a sense of humour. An amusing alcohol.
Enter the Single Malt Scotch Whisky, with added Velociraptor and Shark. Sort of. The comic book-inspired label will definitely make this bottle stand out from all the others.
Can you imagine rocking up to a party with a bottle of this? Much better than a dull bottle of wine.
You can order the Velociraptor vs. Shark Whisky from Firebox for £39.99. Pour it over the polished rocks we mentioned a couple of weeks ago.
p.s I couldn't really talk about sharks, without mentioning the world's worst/best shark film…