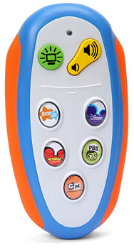 Young kids and cable TV is a combination asking for trouble.
Sure, it's got a ton of kids channels to keep them occupied, but leaving a child in the possession of the TV controller may lead to them flicking from CBeebies to the far less educational Babestation (or educational in a whole new way).
ThinkGeek think they have the answer, with the iMote. This child friendly remote controller has programmable buttons, so you can decide what channels your child can watch.
The remote has room for five channels,  and it overrules the main controller. Choose the channels, add the stickers and you can hand over the controller safe in the knowledge that your child will only watch suitable programs.
It's chew and slobber friendly too, so your geekling can have a good nibble on the remote without any nasty side effects.
Like the concept of a remote control/chew toy? You can order it from ThinkGeek for $29.99.